Philip Lynott was more than just Dublin's favorite son, he was the first real Irish rock star. He was born on August 20, 1949, the son of a working-class Irish Catholic mother and a black South American father. His mother, Philomena (Phyllis) Lynott, had crossed the Irish Channel in search of better wages. She found work in London, where she shortly became pregnant with the future Rocker. Little is known about his father except his name, Cecil Parris, and the fact that he and Phyllis did not marry. Philip was born in West Bromwich, Birmingham, England at the Halham Hospital. She returned to Dublin, but had to leave her baby with her parents in order to earn money in England to support the two of them. Philip Parris Lynott grew up in the household of his grandparents, in the company of uncles who were less than ten years older than he.
In his early teens, Philip joined a local band called the Black Eagles as their vocalist. The group played the chart songs of the day, and became locally popular. Their drummer was Brian Downey, who had been at school with Philip, and was to remain associated with him for many years, both personally and professionally. The Black Eagles eventually became well-known enough to open for some of the most fashionable Irish "showbands" in huge ballrooms up and down the country. By the time Lynott was 18, however, the group had fallen apart and he was asked to join Brendan "Brush" Shiels' group, Skid Row. "I didn't particularly want someone who could sing well," Shiels said,"I just wanted someone who looked good. Philip was about the best-looking boy around, and I knew that with him fronting the band we'd get lots of attention from the girls."
In 1968, Skid Row's guitarist was replaced by "a kid from Belfast" named Gary Moore, whose talent sent the band in a new direction. They began introducing original material into their sets, and in 1969 came out with their first single. "New Faces, Old Places," a Brush Shiels composition, was released on the independent Song label. It is Lynott's first appearance on vinyl.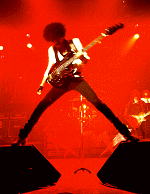 Shortly after that, Philip left the band to have his tonsils removed, and was not invited to return. Shiels remained interested in him, however, and volunteered to teach him to play the bass. Brush chose the bass rather than the guitar because,"with only four strings to worry about he could have a band together in three months, but with six strings to contend with it would take much longer." Sure enough, just about the time that Philip began to master the bass, he ran into his old friend, drummer Brian Downey. Downey was temporarily out of work, and when he heard that Lynott was in the same case he said,"Hey, let's start a band!" They did, with the addition of Pat Quigley on bass and a guitarist called Joe Staunton. This band, known as Orphanage, provided Lynott with his first chance to perform original material. In fact, Downey said that,"Quite a few of the melodies that ended up on the first Lizzy album were being thrown around in Orphanage." He added that,"We were getting into the hippy thing, doing a bit of acid, hash, and stuff like that. It didn't improve matters musically, but it was fun!"
At the end of 1969, Lynott and Downey were approached by guitarist Eric Bell about the possibility of forming a new band. It was Downey that Bell was really interested in, but Phil joined too, with the proviso that he would play the bass (he had been strictly a vocalist) and do some of his original songs. By early 1970, they had agreed on a format and a name, and Thin Lizzy was born. When the band announced their name to the Irish press in February, the line-up was Eric Bell (guitar), Brian Downey (drums), Philip Lynott (bass and vocals), and Eric Wrixon (keyboards).
By July, the band was working on a studio single, one of Lynott's own compositions. Released on the Parlophone label on July 31st, 1970, "The Farmer" was Thin Lizzy's first record. It was hardly a chartbuster. In fact, folklore says that of the 500 copies pressed, 283 were sold, the rest being melted down in an early example of recycling.
Wrixon left the band at about this time, and the remaining three were playing four and five nights a week just to keep going. These early days of Thin Lizzy were described by Peter Eustace, the group's "first and last roadie": "Thin Lizzy was very much Eric's band at the beginning, and Phil barely got a look-in. My earliest memory of Thin Lizzy live was that it was just Eric going through his Jeff Beck and Jimi Hendrix routines." By the end of the year, the band had signed with Decca Records, and their first album, "Thin Lizzy," was released in April of 1971. Of the group's first recording sessions, Bell said,"We were totally bombed for the duration of that record, completely out of our tree. Our producer, Scott English, was in even worse shape. At one point we were tuning up, and Scott said,'OK, let's tape that'! God knows how we got anything done - we were all an inch and a half above the floor for two weeks." Despite its technical flaws, however, "Thin Lizzy" managed to capture the band's fiery Celtic spirit and progressive intent.
The band's second Decca album,"Shades of a Blue Orphanage," was released in March of 1972. Overall, it lacked the quality of "Thin Lizzy"; as a follow-up, it was more of an anti-climax. Thin Lizzy toured Europe in 1972, a trip which produced some notable memories. Manager Ted Carroll recalled one occasion among many:"We spent the afternoon up in the mountains, taking acid and playing football. We returned to the hotel to find a show going on - there was a band like a Turkish version of the Shadows playing this awful music, while a woman of about 45 was writhing around, pouring hot wax all over herself. She ended up putting out the candle by sticking it up her....well, you can imagine. We couldn't believe it, especially after all the acid." At this early stage, Thin Lizzy was already developing the brawling, anything-goes style that distinguished them throughout their career.
Like most bands that hadn't had the luxury of a hit single, Lizzy's financial status was shaky, to say the least. Yet such was their popularity back in Ireland that they were able to use home tours as a means of keeping afloat. The money they made from those Irish gigs esentially subsidized their work in England, where the band was literally losing money. Lizzy could make five times as much in Ireland, but if they wanted to break into the big marketplace, they had to keep playing in England.
In late 1972, Thin Lizzy toured as a support band to Slade, and Decca released a single to coincide with the tour. To Lynott's immense annoyance, not to mention that of Bell and Downey, the track chosen was not one of Phil's many original compositions, but a traditional Irish folk tune called "Whiskey in the Jar". Lizzy's version was as far removed from the Gaelic original as Bell's piercing electric guitar and Lynott's Rod Stewart delivery could make it - one critic compared it to a reggae version of "Greensleeves"! That didn't prevent Thin Lizzy from being lumbered with a folksy image that would take years to shed. The song enjoyed a 17-week run at the top of the Irish charts, and reached number six in England.
Thin Lizzy's third album,"Vagabonds of the Western World," was released in September of 1973, and the band was pleased with the result. Downey said,"The quality of Philip's songwriting and the aggression in our playing made it a good album. I think "The Rocker" just about sums up what Thin Lizzy was all about at that time."
In January of 1974, Eric Bell left the band. He was replaced by Gary Moore for the remainder of the Irish tour and the English one which followed. By April, though, Moore had had enough. He had been drunk every night and hung-over every morning for about four months, and, "Ultimately I left Thin Lizzy because I realized I was killing myself."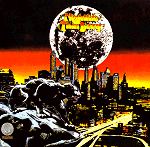 Thin Lizzy was then joined by two new guitarists, 17-year old Brian "Robbo" Robertson of Glasgow, and a Californian named William Scott Gorham. The band's deal with Decca had run out, and they signed on with Phonogram. Their fourth album, "Night Life," was released in November 1974. It wasn't the most successful of projects either commercially or artistically, but the sheer amount of road work the band was doing suggested that they could only get better.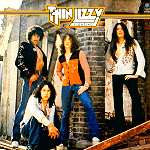 In March of 1975, Thin Lizzy visited the United States for the first time, touring with Bob Seger and Bachman-Turner Overdrive. Scott Gorham said, "BTO was a very professional band, and gave us an indication of what was expected of us on a bigger stage. We went on that tour thinking that if we were supposed to be on at 8:00, we'd probably make it by about 8:30. That attitude ended the first night, when their manager had ours up against the wall by the scruff of his neck, threatening to throw us off the tour if we were ever late again. The next night we were on by 7:55!" Another difference the tour made was that Lynott saw first-hand the kind of effort and projection that top-rank bands put into their performance. By the time they returned to the UK, Lizzy was an altogether tighter band. They released the album "Fighting" in September of 1975, and ended the year on a high note, turning in a great performance at the Great British Music Festival at Olympia on December 31st.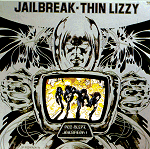 1976 brought the breakthrough album "Jailbreak." Gorham said,"I suppose the most obvious improvement was the twin guitar thing, which we fell into about the time of "Fighting," but which didn't become a big deal until "Jailbreak". Wishbone Ash had done the twin guitar thing before us, but we took the idea and put it into a hard rock context, with more aggression." The key track on the album was "The Boys Are Back in Town," arguably Lynott's most famous song. The single was released in April of 1976, and reached number eight on the British charts. It reached the Top Twenty in the States as well, and the album notched up sales of 100,000, far in excess of anything the band had achieved previously. This was Thin Lizzy in focus, and the group was at last beginning to make money.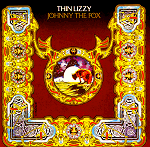 Just seven months after "Jailbreak," in October 1976, the band released another album, this one called "Johnny the Fox." It was an ideal follow-up to "Jailbreak," and confirmation that Thin Lizzy was on the crest of a wave. The album went to number twelve on the UK charts.
Although a tour of the States had been planned for November/December, Lizzy's brawling surfaced again and forced a cancellation. The road crew was actually in New York, finalizing the preparations, when they were told that guitarist Robertson had slashed his hand in a bar fight and would be unable to make the tour. There are several versions of this story, and Robbo still insists that the injury was due to bad luck rather than bad judgment. The agreed-on facts, however, are that the incident happened in a bar, late at night, and that the injury was inflicted with a broken bottle.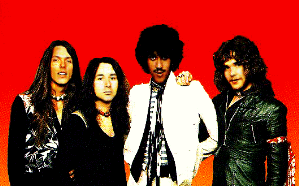 After the injury, Robbo was told that he would never play again. That turned out to be untrue, but the issue of whether he would ever play with Thin Lizzy again was far from settled. Gary Moore was once again recruited to fill out the line-up, and in early 1977 the band took off for a US tour as the supporting band for Queen. (This gave the marketing men the chance to come up with one of the corniest titles of all time; in Elizabeth II's Jubilee Year the it was billed as "The Queen Lizzy Tour.")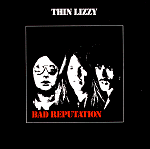 Moore left Thin Lizzy at the end of the tour, and the remaining three began work on another studio album. "Bad Reputation" took shape during May and June of 1977, by which time Robbo was back with the group, at least on a session basis. During August the band, with Robbo officially "guesting" on guitar, undertook a European festival tour. In September "Bad Reputation" was released, and quickly rose to number four on the UK charts. Thin Lizzy had never been bigger, nor Lynott more influential: adored by fans, admired by contemporaries, accepted by critics, and a natural for the media.
It was, however, a time when those who knew Philip best began to sense a change in his personality. In retrospect, it can be blamed partly on the fame that he was enjoying, and partly on the drugs he was taking. Whatever the explanation, the emergence of Philip Lynott the Difficult Artiste dates from the summer of 1977 and Thin Lizzy's autumn U.S. tour.
Tour manager Frank Murray recalled, "The problem was that we'd all been hitting it a bit heavy - smoke, drink, coke, and so on. But then Philip started taking tranquilizers; he'd do all this coke to keep him awake until five in the morning, and then take a load of sleeping pills to get himself to sleep. Then there'd be someone knocking on his door a few hours later trying to get him on the bus to the next town. Consequently, he'd usually be in a really foul mood, and he'd be looking for a fight." Live sound engineer Peter Eustace added,"Philip was OK until he discovered powders, pills, and potions."
Of course, with Thin Lizzy nothing ever went as planned anyway. For their UK tour in late 1977, the record company decided to lay on a limo to promote the band's cool rock star image. But because there was only one limo, they were hauling around a trunkful of gear - so much that the trunk would never shut properly. They ended up having to tie the trunk lid down with a wire coat hanger, which totally destroyed the look of opulence the limo was supposed to project. That was typical Thin Lizzy.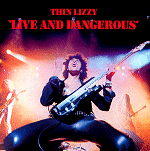 1978 began with the mixing of the double album "Live and Dangerous." Released in June, it was a hit on both sides of the Atlantic. On this album, for the first time, the band managed to recreate the excitement of their stage performances in the studio. The live rendition of "Still in Love With You" is considered by some to be the highlight of Lynott's entire career.
The 1978 summer tour was the last featuring the Robbo line-up. Tension had been building for some time; Brian Downey said that,"Robbo always seemed to be in the wars - broken bones, cuts, bruises, slashed tendons, and God knows what else. You never knew if he was going to turn up to the next gig in one piece." "He was a ****ing nut case," added Scott Gorham, "He was a great player and a lot of fun to be with. But Phil was always pissed at him for some reason, and in the end even I had to agree that he was a liability." Robbo himself admitted, "I was really out of control, a complete ***hole. I used to drink a lot of whiskey and snort a lot of speed, so I was fired up a lot of the time, like a stick of dynamite waiting to explode. I mean, I'm short-tempered enough, but when I'm on whiskey and speed I'm uncontrollable."
In the fall Thin Lizzy took off for the States again, with Gary Moore replacing Robbo, but without Brian Downey. "I was totally exhausted," he said,"I just couldn't take any more. I didn't want to see another stage again, and I certainly didn't want to go on to Australia, as had been proposed." The band auditioned drummers in LA, and as Moore told it, "One of the guys we tried was Terry Bozzio, but he just didn't fit in with us - he didn't do drugs and he didn't say "****" enough times in a sentence! Plus, he wanted to bring his wife on the road. We were like,"Oh, yeah, SURE!" So we ditched him and got in Mark Nauseef, who'd been playing with the Ian Gillan Band."
This "Live and Dangerous" tour was marked by turbulence, as everyone from Phil to the limo driver got into fights. Two of the road crew got arrested in Honolulu on the trip to Australia, and the whole trek was something of a circus. "Typical Lizzy, really. If it wasn't for bad luck we wouldn't have had any luck at all."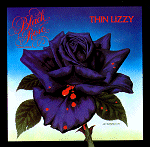 Moore and Nauseef flew back to LA when the tour was over, and the remaining members of the band returned to London to begin work on the next album. They were soon joined by a rejuvenated Brian Downey, and Thin Lizzy released "Black Rose" in April of 1979. The centerpiece of the album was the title track, in Gaelic "Roisin Dubh." It was possibly the most ambitious piece of music Lizzy had ever attempted, sprawling across the second side of the record in four sections - 1)Shanendoah, 2)Will You Go, Lassie, Go, 3) Danny Boy, and 4)The Mason's Apron.
Gary Moore was back with the band for their next U.S. tour, but as he recalled, "It quickly became apparent to me that things were going downhill. Phil just wanted to have a good time basically, and it seemed like he didn't give a **** about performing. It got to the point where the party after the show was more important than the show itself. Phil was becoming harder and harder to work with. You couldn't get him out of his hotel room, for a start. We were always late for everything. Scott used to call us the most unprofessional professional band in the business, and he was dead right."
The friction between Moore and Lynott reached its peak in July, and Moore quit the band in mid-tour. "I couldn't stand there watching Phil blow it night after night", Moore said. "No one could control him. I told someone once that they fired me for going on stage with my guitar in tune! I was joking, but it was a bit like that."
Moore was replaced by Midge Ure, and for their tour of Japan in September Lynott added a fifth player, guitarist Dave Flett. This allowed Ure to switch to keyboards for some songs, and it also afforded a spectacle not seen since the demise of Lynyrd Skynyrd - three lead guitars huddled together at the front of the stage.
On St. Valentine's Day, 1980, Philip Lynott married Caroline Crowther, the mother of his 14-month old daughter, Sarah. One of the highlights of the wedding was the speech given by the bride's father, entertainer Leslie Crowther. "When Philip asked for my daughter's hand in marriage," Crowther quipped, "I said,'Why not? You've had everything else!'" This was confirmed by the arrival of their second daughter, Cathleen, some five months after the wedding.
About the same time as the wedding, Thin Lizzy announced the name of their new guitar player. It was Terrence Charles "Snowy" White, a seasoned session player who had worked with artists as varied as Peter Green, Al Stewart, Cliff Richard, and Pink Floyd. The new line-up also included keyboardist Darren Wharton. Lynott's first solo album, "Solo in Soho," was released in April of 1980, and in May the band opened their "Chinatown" tour, although the album of that name was still languishing in the studio. The tour was a lackluster affair, and most of the blame fell on Snowy White. He was a great guitar player, but not much of a showman onstage. (A joke of the time was that White took valium as a stimulant!)

"Chinatown" was finally released in October, and the track "Killer on the Loose" provided the band with another hit single. On the whole, though, the album was judged to be "agonizingly average." In March of 1981 Vertigo released the compilation album, "The Adventures of Thin Lizzy," which went gold in the UK.
The next project in the production line was the album "Renegade," released in November of 1981. Like "Chinatown," "Renegade" tends to get swept under the carpet when rock historians review Lizzy's recording career. But, while most fans would agree that the two Snowy White albums lacked the firepower of some of the earlier releases, it seems unfair that an album containing such stirring songs as "Renegade," "Hollywood (Down on Your Luck)," and "It's Getting Dangerous" is regarded with so little enthusiasm. Unfortunately, whatever its artistic merit, the album was a commercial failure.
Some of the problem had to do with the fact that Lizzy's sound fell into the gap between heavy metal and pop music, sometimes pleasing the fans of neither. There was also the question of image: one of the tracks from "Solo in Soho," "Yellow Pearl" had been picked up by the BBC as the theme tune for their "Top of the Pops" show, and hard-core rock fans felt that Lynott had no business being associated with such pap. Part of the band's problem, however, was unquestionably due to an increase in activity in "the illegal chemical sweepstakes." Everyone knew that Philip was getting heavily involved with drugs.
The "Renegade" tour of 1982 was an improvement on the "Chinatown" one, with more effort and imagination being put into the stage production. It is not, however, remembered with much fondness by those who took part in it. Things were rapidly spinning out of control, and Lynott's drug abuse was getting worse. "We used to have patrols at our concerts," said engineer Eustace,"with people scouring the audience for drug dealers. We'd also have people going through Phil's luggage and throwing away all his chemicals. But it was a losing battle, because Phil would always get more."
Eventually Lynott became so unreliable that Snowy White could take no more. Rather than face another siege in the studio for which Philip might, or might not, show up and might, or might not, be capable of working, White quit the band. Even manager Chris O'Donnell, who had been part of Lizzy's team since 1973, threw in his hand. He'd had enough of watching the deterioration of the band, and especially of its leader. His assessment of the last years he was with Lizzy is brusque: "Chinatown" was absolute garbage, and when Phil brought in a keyboard player for "Renegade," that was it for me. A once brilliant band was turning into a pile of crap before my very eyes."
Philip's second solo album,"The Philip Lynott Album," was released in October of 1982. It has been described as "a patchwork of simple ideas drenched in the moist-eyed emotions of a soppy, sentimental fool," which seems hard to improve upon. Following the failure of "Renegade," this work made it clear that both Lynott's future and that of the band were in jeopardy.
The main thing that held Thin Lizzy together for one more album and one more tour was their precarious financial situation. The band was, in fact, on the verge of bankruptcy - they couldn't afford to quit. Manager Chris Morrison recalled, "In those days it was costing about 500,000 pounds a year to run Thin Lizzy. Every person on that crew was on a bloody retainer, and the wages bill was enormous. I work with bands today (1993) that cost 50,000 pounds a year to keep together, so you can imagine the extravagance of the Lizzy operation." It was Morrison who came up with the idea of billing the "Thunder and Lightning" tour as a Farewell Tour, in order to increase ticket sales.
In fact, "Thunder and Lightning," with John Sykes replacing Snowy White on guitar, was probably the best work the band had done since 1976. It did well on the charts, reaching the highest position (#4) of any Lizzy album since "Black Rose." Within days of the press announcement of the Farewell Tour, all the tickets had been snapped up. With the success of the album sales as well, it began to look as if Thin Lizzy would be able to clear their debts, and move on with clean slates.
At the last of Thin Lizzy's shows at the Hammersmith Odeon (March 12, 1983), Chris Morrison realized a long-standing dream - the reunion of the Lizzy guitarists. As the main set reached its climax, out from the wings stepped Brian Robertson to contest one more dual with Scott Gorham on their signature songs "Emerald," "Rosalie," and "Baby Drives Me Crazy." Then Gary Moore waltzed on stage to lead the band in "Still in Love With You" and "Black Rose." Eric Bell joined the party for "Whiskey in the Jar," and then the whole pack fought over "The Rocker".
Originally planned to last three months, the Farewell Tour ended up lasting nearly a year. After the UK and Scandinavia, the band went on to Japan, where the trip turned into a nightmare. Peter Eustace recalled, "Phil couldn't get any heroin in Japan, and he was in a bad way." He came apart during the set one night, delivering a long rambling monologue before staggering offstage. After that he pulled himself together after a fashion, but didn't really recover until they left Japan.

Thin Lizzy presented Phonogram with a live double album in fulfillment of their contract and as a souvenir of the last tour. Titled "Life," the album included the guitar jam at Hammersmith, and it should have been a treasure. Unfortunately, Lynott insisted on doing the mixing himself, and he just wasn't up to the job. Not only was the finished mix rough, but it took forever and cost a fortune. The album didn't come out until the end of the year, when the furor had long since died down.
The band's last show was on September 4, 1983, in Nuremburg, Germany. The end of Thin Lizzy came not with a bang but a whimper. "After Germany," said Darren Wharton,"we said goodbye at the airport and that was it."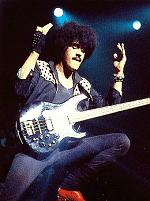 For the remaining three years of his life, Philip Lynott's heroin use became progressively more obvious, and his deterioration progressively more pronounced. His wife Caroline left him, taking their daughters, whom her family sought to protect from their father's lifestyle.
After the break-up of Thin Lizzy, Lynott put together a band called Grand Slam. With Mark Stanway on keyboards, Laurence Archer on guitars, Robbie Brennan on drums, and Doish Nagle as rhythm guitarist, Grand Slam debuted in London in May of 1984. The band was well-received, and presented some impressive original material. The problem was that no one in the music industry was prepared to gamble on a renowned heroin addict who was embarking on a mid-life career change. Even with Chris Morrison's management, Grand Slam could not sign a record deal. It did not help that the band was out of control, drunk and/or stoned for every performance. Lynott, Nagle, and Brennan were shooting heroin as well.
Grand Slam gigged through 1984, interspersing their live shows with short spells in the studio. But Mark Stanway recalled that "toward the end [Lynott's] moods were unbelievable, almost psychopathic. It was terrible rehearsing with him, because if he was on the gear he'd carry on playing the same thing for two hours. He'd forget the words. He put on weight, and seemed to lose all his pride in his appearance."
One of the band's last shows took place at the Marquee in London at Christmas time. It was a great show, made even more remarkable by the condition that at least three of the band members were in at the time. In the end, however, the money ran out, and without the security of a record deal Morrison couldn't keep the band going.
In 1985 Lynott worked with Gary Moore on Moore's song, "Out in the Fields." When this was released, it was backed by Lynott's "Military Man," which he had written for Grand Slam. The record reached #5 on the UK charts in May. "Nineteen," another Grand Slam song, was released in November, and Philip was beginning work on another album. By this time, though, his health had become so bad that "his body had just about shut down."
On Christmas Day, 1985, Philip Lynott was found unconscious in his London house. He was taken to Salisbury Hospital, where he died on January 4th, 1986. The pathologist's report indicated that he had developed multiple internal abcesses and blood poisoning, as a result of which he had suffered kidney, liver, and heart failure. "Phil didn't die of a heart attack; he died of a life style."
On January 9th a service was held for Lynott at St. Elizabeth's Church in Richmond, and on January 11th he was buried from the Howth Parish Church in Ireland. The Gaelic inscription on his stone reads, "Go dtuga Dia suaimhneas da anam" - "May God give peace to his soul."