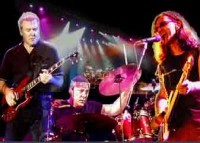 Over the course of their decades-spanning career, the Canadian power trio Rush emerged as one of hard rock's most highly-regarded bands; although typically brushed aside by critics and rare recepients of mainstream pop radio airplay, the group nonetheless won an impressive and devoted fan following, while their virtuoso performance skills solidified their standing as musicians' musicians.

This Canadian heavy rock band was formed in 1968 by Geddy Lee (b. Gary Lee Weinrib, 29 July 1953, Willowdale, Toronto, Canada; keyboards, bass, vocals), Alex Lifeson (b. Alex Zivojinovich, 27 August 1953, British Columbia, Canada; guitar) and John Rutsey (drums). From 1969 to 1972 they performed in Toronto playing a brand of Cream-inspired material, honing their act on the local club and bar circuit. In 1973, they recorded a version of Buddy Holly's "Not Fade Away" as their debut release, backing it with "You Can't Fight It", for their own label, Moon Records. Despite failing to grab the attention as planned, the band pressed ahead with the recording of a debut album, which was remixed by Terry "Broon' Brown (he would continue to work with the band until 1984"s Grace Under Pressure.) With no bite from the majors, once again this arrived via Moon, with distribution by London Records. The quality of their live appointments improved, picking up support slots with the New York Dolls in Canada and finally crossing the US border to play gigs with ZZ Top.

Eventually Cliff Burnstein of Mercury Records (who would later also sign Def Leppard) heard the band and reissued their debut. At this point Neil Peart (b. 12 September 1952, Hamilton, Ontario, Canada; drums, ex-Hush), who was to be the main songwriter of the band, replaced Rutsey, and Rush undertook their first full tour of the USA. Rush's music by this point was typified by Lee's oddly high-pitched voice, a tremendously powerful guitar sound, especially in the early years, and a recurrent interest in science fiction and fantasy from the pen of Neil Peart. Later he would also conceptualize the work of authors such as John Barth, Gabriel Garcia Marquez, and John Dos Passos. This approach reached its zenith in the band's 1976 concept album, 2112, based on the work of novelist/philosopher Ayn Rand, which had as its central theme the concept of individual freedom and will. Including a 20-minute title track that lasted all of side one, it was a set which crystallized the spirit of Rush for both their fans and detractors. However, the band's most popular offering, A Farewell To Kings, followed by Hemispheres in 1978, saw Peart finally dispense with his "epic" songwriting style. By 1979, Rush were immensely successful worldwide, and the Canadian Government awarded them the title of official Ambassadors of Music.

As the 80s progressed, Rush streamlined their image to become sophisticated, clean-cut, cerebral music-makers. Some early fans denigrated their determination to progress musically with each new album, though in truth the band had thoroughly exhausted its earlier style. They enjoyed a surprise hit single in 1980 when "The Spirit Of Radio" broke them out of their loyal cult following, and live shows now saw Lifeson and Lee adding keyboards for a fuller sound. Lee's vocals had also dropped somewhat from their earlier near-falsetto. The best-recorded example of the band from this period is the succinct Moving Pictures from 1981, a groundbreaking fusion of technological rock and musical craft that never relies on the former at the expense of the latter. However, their career afterwards endured something of a creative wane, with the band at odds with various musical innovations. Despite this, live shows were still exciting events for the large pockets of fans the band retained all over the world, and in the powerful Hold Your Fire in 1987 they proved they were still able to scale former heights.

In 1994, the band agreed to a break for the first time in their career, during which Lifeson worked on his Victor side project. They returned in 1996 with Test For Echo. Often criticized for lyrical pretension and musical grandstanding - unkind critics have suggested that Rush is exactly what you get if you let your drummer write your songs for you - they nevertheless remain Canada's leading rock attraction, and have clearly found strength and unity following an extended hiatus owing to the deaths of Peart's daughter and wife (the drummer's Ghost Rider: Travels On The Healing Road details his grief and the healing process). The post-tragedy Vapor Trails, released in 2002, proved to be one of their strongest albums in many years.

Discography:
Rush (Moon 1974)**, Fly By Night (Moon 1975)**, Caress Of Steel (Mercury 1975)**, 2112 (Mercury 1976)***, All The World's A Stage (Mercury 1976)**, A Farewell To Kings (Mercury 1977)***, Hemispheres (Mercury 1978)**, Permanent Waves (Mercury 1980)****, Moving Pictures (Mercury 1981)****, Exit: Stage Left (Mercury 1981)***, Signals (Mercury 1982)***, Grace Under Pressure (Mercury 1984)**, Power Windows (Mercury 1985)**, Hold Your Fire (Mercury 1987)**, A Show Of Hands (Mercury 1989)***, Presto (Atlantic 1989)**, Roll The Bones (Atlantic 1991)**, Counterparts (Mercury 1993)**, Test For Echo (Atlantic 1996)**, Vapor Trails (Atlantic 2002)****, In Rio (Atlantic 2003)***, Feedback mini-album (Atlantic 2004)***.

Compilations:
Archives 3-CD set (Mercury 1978)***, Rush Through Time (Mercury 1980)**, Chronicles (Mercury 1990)****, Retrospective 1 (1974-1980) (Mercury 1997)***, Retrospective 2 (1981-1987) (Mercury 1997)***, Different Stages: Live 3-CD set (EastWest 1998)***, The Spirit Of Radio Greatest Hits 1974-1987 (Mercury 2003)****.

Videography:
Exit ... Stage Left (RCA/Columbia Video 1981), Through The Camera Eye (RCA/Columbia Pictures 1985), Grace Under Pressure Tour (PolyGram Music Video 1986), A Show Of Hands (PolyGram Music Video 1989), Chronicles (Anthem Music Video 1990), In Rio (Rounder/Universal 2003).

Bibliography:
Rush, Brian Harrigan. Rush Visions: The Official Biography, Bill Banasiewicz. Rush, Tribute, Merely Players, Robert Telleria. Ghost Rider: Travels On The Healing Road, Neil Peart.