Julius Henry Marx, known as Groucho Marx (October 2, 1890 – August 19, 1977), was an American comedian, working both with his siblings, the Marx Brothers, and on his own. The bushy-browed, cigar-smoking, wisecraker with the painted on mustache and stooped walk was the leader of the Marx Brothers. With one-liners that were many times full of sexual innuendo, Groucho never used profanity in any of his performances, and said he never wanted to be known as a dirty comic. With a great love of music and singing, (the Marx Brothers started as a singing group), one of the things Groucho was best known for was his rendition of the song "Lydia the Tattooed Lady."




Childhood

The Marx family grew up on the Upper East Side of New York City, in a small Jewish neighborhood sandwiched between Irish-German and Italian neighborhoods.


Accent

For a time in vaudeville, all the brothers performed in ethnic accents; Leonard Marx, the oldest Marx brother, developed the "Italian" accent he used as "Chico" to convince some roving bullies that he was Italian, not Jewish. Groucho did a German accent. However, after the sinking of the RMS Lusitania in 1915 public anti-German sentiment was widespread, and Groucho's "German" character was booed, so he quickly dropped the accent and developed the fast-talking wise guy character he would make famous.


Career highlights

An early photo of the
brothers with their parents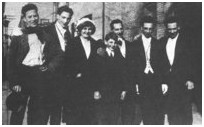 Groucho is the first on the left.Groucho developed a routine as a wise-cracking hustler with a distinctive chicken-walking lope and an exaggerated greasepaint mustache, improvising insults to stuffy dowagers (often played by Margaret Dumont) and anyone else who stood in his way. He and his brothers starred in a series of extraordinarily popular movies and stage shows, often departing from the scripts they were using.

The use of greasepaint originated spontaneously before a vaudeville performance when he did not have time to apply the pasted-on mustache he had been using.

In the 1930s and 1940s Groucho also worked as a radio comedian and show host. In the late 1940s, he hosted the popular radio program You Bet Your Life, which moved over to television in 1950. The show consisted of Groucho interviewing the contestants and "ad libbing" jokes. Then they would play a brief quiz. The show was responsible for the phrases "Say the secret woid [word] and divide $100" (that is, each contestant would get $50); and "Who's buried in Grant's Tomb?" or "What color is the White House?" (asked when Groucho felt sorry for a contestant who hadn't won anything). It would run 11 years on television.

Throughout his career he introduced a number of memorable songs in films, including "Hooray for Captain Spaulding", "I'm Against It", "Hello I Must be Going", "Everyone Says I Love You" and "Lydia the Tattooed Lady". Crooner Frank Sinatra once quipped that the only thing he could do better than Marx was sing.


Later years

Groucho Marx appears on
"America Salutes Richard Rodgers"

Off-stage he was bookish and stated late in life that he lamented the fact he had never finished school or gone to college. Despite his lack of formal education he wrote several books, including the autobiographical Groucho and Me (1959) (Da Capo Press, 1995, ISBN 0306806665).

In later years he grew a real moustache, the lack of which had earlier been an effective means of hiding himself from fans.

His stage name was said to have been bestowed on him because while in vaudeville he kept his money in a bag around his neck known as a "grouch" bag. An alternate story is that he was grouchy. The comedian himself wrote that he did not know the nickname's origin, but in his autobiography he wrote that it wasn't from the money-holding grouch-bags. In any case, he was a master at improvising clever insults and became well known for this. One of his frustrations in later years was that when he insulted people who annoyed him they tended to laugh, thinking it was just part of the famous comedian's act.

In the early 1970s, Groucho made a comeback of sorts doing a live one-man show, including one recorded at Carnegie Hall and released as a double album, An Evening with Groucho, on A&M Records. His previous works once again became popular and were accompanied by new books of interviews and other transcribed conversations by Richard J. Anobile and Charlotte Chandler. He had become quite frail by this time, descending into senility, and his last few years were accompanied by controversy over a companionship he had developed with Erin Fleming and consequent disputes over his estate.

Groucho Marx died on August 19, 1977. He was cremated, and the ashes were interred in the Eden Memorial Park Cemetery in Mission Hills, Los Angeles, California. Aged 86 at death, Groucho was the longest-lived of all the Marx brothers, though younger brother Zeppo survived him by two years. His death undoubtedly would have received more attention at the time had it not occurred three days after that of Elvis Presley.


Groucho's legacy

Bugs Bunny impersonates Groucho in
the 1947 Looney Tunes short "Slick Hare"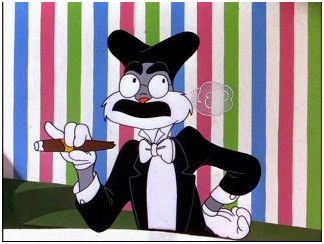 Various Groucho-like characters have appeared in popular culture, some long after Marx's death, a testament to the character's lasting appeal.

Bugs Bunny befuddles Elmer Fudd memorably in "Wideo Wabbit" (1956) by imitating the mustachioed comedian in a "You Bet Your Life" parody called "You Beat Your Wife". Later he imitates Art Carney and slaps comical glasses on Elmer, admonishing "don't be such a Groucho".

Alan Alda often vamped as Groucho on M*A*S*H and a minor semi-recurring character in the series (played by Loudon Wainwright III) was named Captain Calvin Spalding in a nod towards Groucho's character in Animal Crackers, Captain Jeffrey T. Spaulding.

Gabe Kaplan portrayed Marx in the biographical Groucho (1982) which was originally produced on Broadway. Kaplan also impersonated Groucho, his hero, in his television series Welcome Back Kotter, and in WhatzUp Magazine recalled that he had even approached Groucho to make a cameo on the show but Groucho's care-giver, Erin Fleming, wouldn't allow it. (According to Mark Evanier, Marx did visit the set with Fleming, but wasn't well enough to perform.)

Dave Sim, in his controversial comic book Cerebus the Aardvark, cast Groucho as the slippery, wisecracking but indomitable Lord Julius, Grandlord of the bureaucrat-ridden City-state of Palnu. In Tiziano Sclavi's comic book series Dylan Dog, the hero's sidekick and assistant is called and looks like Groucho Marx. His moustache was removed in the US version of the series.

Rob Zombie uses four Groucho Marx character names (Captain Spaulding from Animal Crackers, Otis Driftwood from A Night at the Opera, Rufus Firefly from Duck Soup, and S. Quentin Quale from Go West) for his movies, House of 1000 Corpses & The Devil's Rejects.

At the end of the basketball episode of Clone High where Joan reveals that she dressed up as a man to play on the team, Principal Scudworth calls out for everyone else wearing a fake moustache to please leave. A man with a fake moustache walks by, followed by a goose wearing a similar moustache, followed by Groucho Marx (or the clone thereof).

In an episode of the Spanish sitcom Aquí no hay quien viva, Paco (Guillermo Ortega) does an impression of Marx in costume, sporting the fake moustache and eyebrows, glasses and a cigar, imitating Marx's high-pitched fast-talking voice while speaking in Spanish.

In a 2005 poll, The Comedian's Comedian, Groucho was voted the 5th greatest comedy act ever by fellow comedians and comedy insiders. His glasses, nose, and moustache have become icons of comedy — to this day, glasses with fake noses and moustaches resembling Groucho are still sold by novelty and costume shops, and worn by young people who often haven't a clue as to their origin.



Actor - filmography


The Mad, Mad, Mad Comedians (1970) (TV) (voice)
Skidoo (1968) .... God
The Mikado (1960) (TV) .... Ko-Ko
The Story of Mankind (1957) .... Peter Minuit
Will Success Spoil Rock Hunter? (1957) (uncredited) .... George Schmidlap
Showdown at Ulcer Gulch (1956) .... Cameo appearance (Stage conductor)
A Girl in Every Port (1952) .... Benjamin Franklin 'Benny' Linn
Double Dynamite (1951) .... Emile J. Keck
Love Happy (1949) .... Detective Sam Grunion, narrator of the story
Copacabana (1947) .... Lionel Q. Deveraux
A Night in Casablanca (1946) .... Ronald Kornblow
The Big Store (1941) .... Wolf J. Flywheel
Go West (1940) .... S. Quentin Quale
At the Circus (1939) .... J. Cheever Loophole
Room Service (1938) .... Gordon Miller
A Day at the Races (1937) .... Dr. Hugo Z. Hackenbush
Yours for the Asking (1936) (uncredited) .... Sunbather
A Night at the Opera (1935) .... Otis B. Driftwood
Duck Soup (1933) .... Rufus T. Firefly
Horse Feathers (1932) .... Prof. Quincy Adams Wagstaff
Monkey Business (1931) .... Groucho
Animal Crackers (1930) .... Captain Jeffrey T. Spaulding
The Cocoanuts (1929) .... Hammer
Humor Risk (1926) .... Villain
Filmography as: Actor, Writer, Miscellaneous Crew, Director, Himself, Archive Footage, Notable TV Guest Appearances:
Writer - filmography
"Bob Hope Presents the Chrysler Theatre" (1963) TV Series (play) (episode "Time for Elizabeth")
"The Life of Riley" (1953) TV Series (story)
The Life of Riley (1949/I) (story)
The King and the Chorus Girl (1937)
Filmography as: Actor, Writer, Miscellaneous Crew, Director, Himself, Archive Footage, Notable TV Guest Appearances:
Miscellaneous Crew - filmography
At the Circus (1939) (singer: "Lydia, The Tattooed Lady")
Filmography as: Actor, Writer, Miscellaneous Crew, Director, Himself, Archive Footage, Notable TV Guest Appearances:
Director - filmography
Groucho Marx's Home Movies (1933)
Filmography as: Actor, Writer, Miscellaneous Crew, Director, Himself, Archive Footage, Notable TV Guest Appearances:
Himself - filmography
You Bet Your Life: The Lost Episodes (2003) (V)
Classic Comedy Teams (1986) (V) .... The Marx Brothers
Joys (1976) (TV) .... Groucho Marx
The 46th Annual Academy Awards (1974) (TV) .... Himself - Honorary Award Recipient
The 22nd Annual Tony Awards (1968) (TV) .... Himself - Presenter
The Plot Thickens (1963) (TV) .... Himself
"The Tonight Show" (1962) TV Series .... Guest Host
"Tell It to Groucho" (1962) TV Series .... Host
Screen Snapshots: Playtime in Hollywood (1956) .... Himself
Screen Snapshots: The Great Al Jolson (1955) .... Himself
General Foods 25th Anniversary Show: A Salute to Rodgers and Hammerstein (1954) (TV) .... Himself (host)
Mr. Music (1950) .... Himself, Groucho Marx
"You Bet Your Life" (1950) TV Series .... Host
Sunday Night at the Trocadero (1937) .... Himself
Groucho Marx's Home Movies (1933) .... Himself
Hollywood on Parade No. 11 (1933) .... Himself
The House That Shadows Built (1931) .... Caesar's Ghost