Dennis Wolfberg was born on March 29th, 1946 in New York. For twelve years, Dennis was a New York City school teacher and taught sixth-grade students in the South Bronx before pursuing his dream of becoming a performer and starting his career as a comic. This was also the year he met comedienne, Jeannie McBride. The two married in 1985 and soon became the only husband and wife stand-up act working the American comedy circuit.

As he honed his skills on the road and steadily built a strong following over the next several years, Wolfberg's popularity soon exploded. In fact, Dennis rose to the very top of the heap when he was twice named America's top male comic in votes by club-goers and owners nationwide and even won an "American Comedy Award" as best male stand-up in 1990.

In 1992, Dennis became a fixture on "The Tonight Show" and starred in his own HBO special. In April of 1993, "Entertainment Tonight" aired "A Day in the Life of Dennis Wolfberg," focusing on his relentless touring schedule.

Style isn't everything in comedy, but it helps. In the case of the erudite ex-school teacher Dennis Wolfberg, it wasn't just the manner in which his vivid descriptions emerge, it's the punctuation. The punch lines explode from his lips like the words of a TV wrestler with a microphone in hand.

Dennis Wolfberg was what many comics who came after him wanted to be: an all-around great stand-up comic. Wolfberg used vocal contortions, bulging eyes and short bursts of energy to frame some of the best-crafted material in the world. He was a consummate comic who, even after he became famous, frequently returned to the stage to work out new material.

More often than not the stage he returned to, and the stage that comics wanted to see him on, was The Comic Strip. It was more than a club for Wolfberg, it was a gym. He seemed to be putting new material through its paces every time he hit the stage. Comics would crowd into the sound booth or flood the balcony to watch him. Some nights there would be more comics than audience members.

Wolfberg was fresh every time you saw him. He kept himself interested by constantly bringing new material and new life into his act; you could watch him dozens of times and never see the same set twice. His love for stand up was evident every time he stepped on stage.

Dennis became well-known for many of his original quotes and comedy routines. Here are but a few of them:

"After ten years in therapy, my psychologist told me something very touching, he said, 'no hablo ingles.'"

"If we had a girl, my wife wanted to call her Sue -- a lovely name, but which for Jews is generally a verb..."

"I didn't practice abstinence, I perfected it."

"She was 102. She didn't have wrinkles, she had pleats ... There's one advantage to being 102. There's no peer pressure."

"We delivered our child via natural childbirth, the procedure invented by a man named Lamaze--the Marquis de Lamaze, a disciple of Dr. Josef Mengele, who concluded that women could counteract the incredible pain of childbirth through breathing. I think we can all agree that breathing is a reasonable substitute for anesthesia. That's like asking a man to tolerate a vasectomy by hyperventilating. Lamaze expects the husband--me--to be there, so that I can witness this festivity. I did not want to be there. This was remarkably painful for my wife. There was nothing my presence could really do to relieve her pain. In other words, I didn't see why my evening should be ruined too."

"I had to go to analysis. They told me I had an unresolved Oedipus complex, which, according to them, meant I want to sleep with my mother. Which is preposterous. My father doesn't even want to sleep with my mother."

"What they put women through today when they're having a baby! They don't want to medicate them, as compared to previous generations. When my mom had me, she had so much medication, she didn't wake up till I was 7."

"When talking about what doctors mean when they say 'You might experience some discomfort,' his response was 'Saying that I might experience discomfort is some what akin to telling someone in the path of a tidal wave they might experience moisture.'"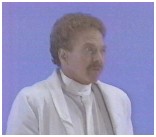 Dennis Wolfberg also brought to life the character of Gooshie (who used to refer to Gooshie as "the Gooshmeister") in the TV series, "Quantum Leap." From the pilot episod "Genesis" to the series finale "Mirror Image," Wolfberg became one of the most well-loved characters from the series. Dennis' credits also include appearances on both "The Tonight Show Starring Johnny Carson" and "Late Night With David Letterman" along with two short television spots during the late 1980's.