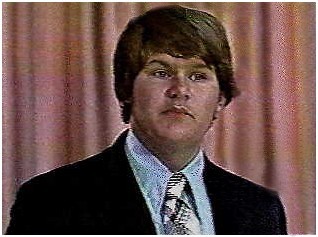 In 1977, Bob Zany started his career where most performers want to end up --on national television. At the tender age of fifteen, the native Southern Californian appeared on the infamous Gong Show. Halfway through his stand-up routine, which he read from a piece of paper, he was pulled off the stage by a man dressed like a nun wielding a net. Welcome to Show Biz, Bay-bee! Eleven years later, Zany made a triumphant return to The Gong Show, this time as a celebrity judge. Though the initial experience was painful, it marked the first of over 100 appearances on national television.

In 1981, while attending Mt. San Antonio College, he applied for a job as a newcaster at the campus radio station but was turned down. Later that year, he auditioned for the owner of The Ice House in Pasadena. The audition took place in the middle of the afternoon in a club that seats 300. From the only occupied chair came the voice of the owner, "You're not ready." Zany looked around the empty showroom and said "Neither is your club!" Undaunted, he talked the owner into letting him produce his own show so he could have the stage time, and for the owner, an audience. The result was The Bob Zany Show. The shows sold out consistently-- with everyone Zany knew from his hometown, West Covina, and then some--in attendance. The shows featured such newcomers as Garry Shandling, Yakov Smirnoff, Robert Wulh, Kevin Nealon, and Nia Peeples. After one show, Zany was approached by Frazier Smith, the host of a top-rated radio show on KLOS/LA. After a short time doing guest spots on Frazier's show, Zany was hired by KLOS as a personality with his own show on Saturday mornings.

His other accomplishments include the creation of Bob Zany's Comedy Outlets, with over 50 locations throughout California and Nevada; a comedy album "Hi Home, I'm Honey", on Laff Records; a soon-to-be published diet scrapbook, "Laugh at Fat, Bay-bee!", which chronicles his 175-lb weight loss (an accomplishment in itself!); numerous roles in feature films, including a starring role opposite Linda Blair in Up Your Alley; and the highlight of his career to date, being hired by his idol, Steve Martin, to appear on George Burns' Comedy Week.

Zany's stage persona has evolved over the years, but the dramatic weight loss in 1991 caused the need for a major overhaul...along with the 175-lbs, he lost 30 minutes of his act! He spent the following year doing late night spots at Hollywood clubs, trying to "reinvent" himself. The result is the cigar-smoking, audience-interactive crowd favorite Bob Zany we know and love today. The transition also led to appearances on Rodney Dangerfield's HBO Special, and as a semi-finalist on Star Search.

Zany continues to work in television and film, including recent guest-starring roles on Roseanne and The Drew Carey Show, and headlines at comedy clubs wordwide, with recent tours in England and Denmark. He is married to comedienne/actress Erin O'Connor, and they live in Los Angeles with their three dogs and three cats.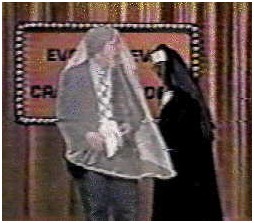 It's just business, Bay-Bee!
FILM
| | | |
| --- | --- | --- |
| TITLE | ROLE | PRODUCER |
| Joe Dirt | Cameo | Columbia Pictures |
| Up Your Alley | Lead | IVE Entertainment |
| Repossessed | Cameo | Carolco |
| The Adventures of Babyman | Co-star | Jendyl Productions |
| I Crave Rock-n-Roll | Cameo | Carmen Santa Maria |
TELEVISION
Over 100 national appearances including:
| | | |
| --- | --- | --- |
| TITLE | ROLE | PRODUCER |
| The Tonight Show | Featured | NBC |
| The American Comedy Awards | Featured/Nominee | ABC |
| The Drew Carey Show | Co-star | ABC |
| Roseanne | Guest Star | ABC |
| George Burns' Comedy Week | Guest Star | CBS |
| Life in the Fat Lane | Featured | NBC |
| Rodney Dangerfield's Really Big Show | Featured | HBO |
| Full Frontal Comedy | Featured | Showtime |
| Half-Hour Comedy Hour | Featured | MTV |
| Evening at the Improv (7 appearances) | Featured | A&E |
| Caroline's Comedy Hour | Featured | A&E |
| Stand-Up Spotlight (Best of Show) | Featured | VH-1 |
| Star Search | Semi-Finalist | Syndicated |
| The Jerry Lewis Telethon (3 appearances) | Featured | Syndicated |
| | | |
| | | |
RADIO
Over 300 live appearances including:
TITLE
ROLE
LENGTH
PRODUCER
The Bob & Tom Show
Regular Call-In Guest
(Current)
WFBQ-FM, 94.7
Indianapolis, IN
(27 Station Affiliates)
The Bob Zany Show
Host
2 years
KLOS/LA
Bob Zany's Comedy Report
Host
2 years
KMDY/LA
Saturday Night Fraze
Recurring
KLSX/LA
Danny Bonaduce Show (Chicago)
Recurring
WLUP
John DeBella Show (Philadelphia)
Recurring
WYSP
Stevens & Pruet (Houston)
Recurring
KLOL
WRITING/PRODUCING
| | |
| --- | --- |
| TITLE | ROLE |
| Kenny Loggins' Christmas Special | Writer, Executive Producer |
| Travel Shoppin' (Pilot) | Writer, Segment Producer |
| David Spade's Hollywood Minute(Saturday Night Live) | Contributing Writer |
| New Times | Contributing Columnist |
| Smoke Magazine | Guest Columnist |
| Laugh Factory Magazine | Associate Editor |
PERSONAL APPEARANCES HEADLINER
Selection from more than 500 comedy clubs worldwide
| | |
| --- | --- |
| VENUE | LOCATION |
| The Improv | Los Angeles, Seattle, Dallas |
| The Ice House | Pasadena |
| The Laugh Factory | Los Angeles, Chicago, Memphis |
| Caroline's | New York |
| The Comedy Stop | Las Vegas, Atlantic City |
| The Riviera | Las Vegas |
| The Maxim | Las Vegas |
| Bally's | Las Vegas |
| The Aladdin | Las Vegas |
| The Laff Stop | Houston, Austin, TX |
| The Comedy Gallery | Minneapolis |
| The Comedy Zoo | Copenhagen, Denmark |
| London Jam | London, England |
CORPORATE SHOWS
| | |
| --- | --- |
| | |
| Carlsberg Brewing Company, Denmark | Los Angeles Police Department |
| Oil Can Harry's, Pacific Northwest | Mervyn's Department Stores |
| California Democratic Party Convention | Water Buffalo Club |
| Make A Wish Foundation | Senator Bill Lockyear |
| Sony | Friar's Club |
| Disney | Wizard Magazine |
OPENING ACT
COLLEGE APPEARANCES
| | |
| --- | --- |
| VENUE | LOCATION |
| Jay Leno | UCLA |
| Rodney Dangerfield | UCLA |
| Garry Shandling | Loyola Marymount |
| The Oakridge Boys | University of Hawaii |
| Leon Russell | University of Michigan |
PROFESSIONAL REFERENCES
| | |
| --- | --- |
| Bob Fisher | The Ice House |
| Budd Friedman | The Improv |
| Jamie Masada | The Laugh Factory, LA |
| Mark Babbitt | The Laff Stop |
| Bob Kephart | The Comedy Stop |